Unfortunately this tour doesn't have any dates available. Please check back later as we will have updated departure dates and information here soon.
Tour code: BEWWFLL-0
Tour Inclusions
Nights

Meals

5 Breakfasts, 2 Dinners
ANZACS on the Western Front - Dawn Ceremony
6 days
Belgium / France
Max Up To 18 Guests Passengers
Worth Noting…
For ANZAC Ceremony departures, our accommodation in Amiens is subject to change. Due to the large number of visitors at this time, two Back-Roads tour groups may stay at the same hotel at the same time.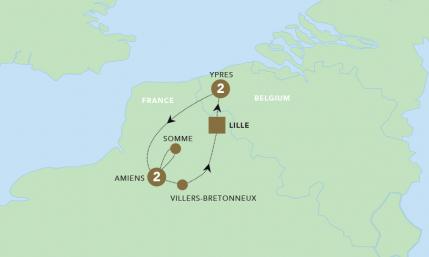 Tour Starts/Ends

1

Overnight Stop
Day Stop
The Blue-Roads Difference
Take time to pay respects at your relatives' graves
Witness the ANZAC Day Service on April departures
Delve into history at the Franco-Australian Museum in Villers-Bretonneux
Tour Inclusions
Accommodation
5 nights in boutique accommodation
The Crew
Experienced Back-Roads Tour Leader and Driver
Transport
Premium mini-coach transportation
Reviews

9 reviews
24th June 2019

Review rating

Our Tour Guide Mary was extremely informative (wonderful historic knowledge), patient and very accommodating when it came to ensure all interested fellow travellers had an opportunity to visit the graves of their relatives!

11th June 2019

Review rating

The Blue-Roads tour I went on, had an excellent bus driver. He was learning the French & Belgium roadways & navigating towns & country side roads. Where & when necessary he parked to pickup or to drop us off as close as possible to the WW1 site visiting, lunch stop or accommodation. This was appreciated on wet/windy days and if there was a medical condition that needed special consideration. He was most helpful and careful with handling baggage. Our tour guide proved helpful, to the driver and our schedule when alternative routes were called for eg need to divert due to roadworks or backed-up or blocked traffic was ahead. Mr Western's enthusiasm and passion of sharing his knowledge about the battles of WW1 was appreciated. He took it upon himself to follow up on any queries we had and made it possible for many of us to locate and connect to places and ancestors, of significant interest to our individual families. He was punctual, organised and caring. He made certain everyone felt part of the group. The information about the events of WW1was often delivered with interesting stories about the location, the people in command, in the front line and points of view and the positions taken by both sides of the conflict explained. Our guide checked that any special accommodation requirements were met and took the time to assist those that had medical concerns. He always followed up and checked that people were okay or if they needed further care. To have the opportunity to travel so far from home, to a foreign place and to see and learn about the history and the countries involved in WW1 was a memorable experience for me. It was also a privilege to be guided by such an excellent tour guide as Mr Steve Western. Thank you Steve and Back-Road Tours.

11th June 2019

Review rating

Without doubt the standout aspect of the tour was the absolute professionalism, knowledge and helpful disposition of the guide Mary Freeman. Her management of the tour, responsiveness to requests and empathy with the tour participants was exemplary. She was perfectly complemented by the tour driver (who's name escapes me) but his conduct and interaction with the tour participants was cheerful, helpful and similarly professional.
Read all 9 reviews