Tour code: BEWNZLL-0
Tour Inclusions
Nights

Meals

4 Breakfasts, 2 Dinners
ANZACS on the Western Front
5 days
France / Belgium
Max 18 Passengers
Overview
From the trenches of Ypres to monuments marking The Somme, our ANZAC tour maps Australian and New Zealand troops' movements in WWI - delving into the stories of the soldiers' involvement in the battles of the Western Front. And with poignant visits to cemeteries and national memorials on the agenda, this history-themed adventure is perfect for those wishing to learn more about their ancestors who fought and died in The Great War. Please note: this tour runs on selected dates throughout the season.
Worth Noting…
for ANZAC Ceremony departures, our accommodation in Amiens is subject to change. Due to the large number of visitors at this time, two Back-Roads tour groups may stay at the same hotel at the same time.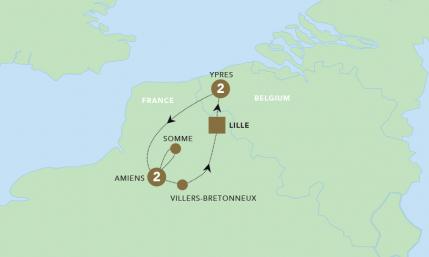 Tour Starts/Ends

1

Overnight Stop
Day Stop
The Blue-Roads Difference
Take time to pay respects at your relatives' graves
Visit the Wellington Quarries - a system of tunnels dug by New Zealand engineers
Delve into history at the Franco-Australian Museum in Villers-Bretonneux
Tour Inclusions
Accommodation
4 nights in boutique accommodation
The Crew
Experienced Back-Roads Tour Leader and Driver
Transport
Premium mini-coach transportation
Reviews

4 reviews
20th July 2019

Review rating

The tour guide and the bus driver were superb. However, Blue-Roads delivered a bus with the airconditioning not working properly. The outside temperature was on average 33-35 degrees. When a complaint was put in to Blue-Roads they did nothing to rectify the problem and tried to blame the driver and tour guide!! The situation was handled so badly by the company. Had it been the following week where temperatures were 45 degrees in the North of France it would have been insufferable. They are still not accepting responsibility for putting on a second rate bus!! It has been very bad form and disgraceful behavior on behalf of the company. The guide made the trip exceptional despite the poor bus and the bad attitude of the company

10th June 2019

Review rating

I think it's a subject you have be interested in. The tour itself was well run and structured. Just that it wasn't what I expected.

10th June 2019

Review rating

We had an excellent guide and driver, and the tour took us everywhere we needed to go including a side trip to visit a relative's grave. It is great travelling in a small group.
Read all 4 reviews