Unfortunately this tour doesn't have any dates available. Please check back later as we will have updated departure dates and information here soon.
View a similar tour
Tour code: BEHBHWH-0
Tour Inclusions
Nights

Meals

10 Breakfasts, 3 Lunches, 3 Dinners
Highlights of the Baltics
11 days
Lithuania / Latvia / Estonia / Russia
Max Up to 15 guests Passengers
Overview
A decadent display of history, lavish Baroque palaces and tranquil towns, this tour of the Baltics will take you through some of Europe's last remaining hidden gems. From the grandeur of Vilnius to St Petersburg's timeless masterpieces, it's perfect for culture vultures and architecture enthusiasts alike.
Worth Noting…
IMPORTANT - PASSPORT DETAILS NEEDED AT TIME OF BOOKING IN ORDER TO REQUEST RUSSIAN INVITATION LETTER. PLEASE MAKE PASSENGER/AGENT AWARE OF THIS AT TIME OF BOOKING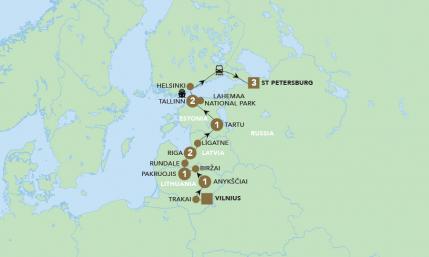 Tour Starts/Ends

1

Overnight Stop
Day Stop
The Blue-Roads Difference
Embark on a scenic Estonian bog walk in Lahemaa National Park
Explore the rich heritage of St Petersburg on visits to the Hermitage, the Tsarskoye Selo complex and the Peterhof Palace
Enjoy a beer tasting session accompanied by folk songs and a traditional lunch in Birzai
Tour Inclusions
Accommodation
10 nights in boutique accommodation
The Crew
Experienced Back-Roads Tour Leader and Driver
Transport
Premium mini-coach transportation