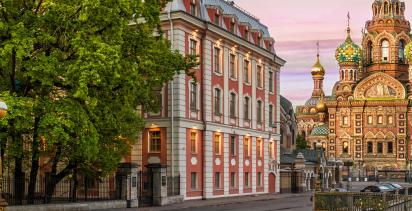 Russia Tours
Explore Russia with Blue-Roads
Spanning two continents and 11 time zones, Russia is the largest country in the world and has been equally influential on the world stage, from czarist Russia to the post-Cold War era. Russia is also an important bastion of culture, including arts, music, literature and science.
Things to do in Russia
Visit St Petersburg
The cultural capital of Russia, St Petersburg is rich in arts and history, boasting some of the most beautiful and distinctive architecture in all of Europe. You'll take a guided tour to the UNESCO World Heritage historic district, traveling to must-see landmarks like St Isaac's Cathedral.
TOUR: Highlights of the Baltics
See more
A Peaceful Stroll in Peterhof Park
Built by Peter the Great, Peterhof Park and Gardens is often referred to as the "Russian Versailles" and includes the Grand Cascade and Samson Fountain, Lower Gardens and the Grand Palace. Enjoy a guided tour of the more than 300 year-old park and gardens.
TOUR: Highlights of the Baltics
See more