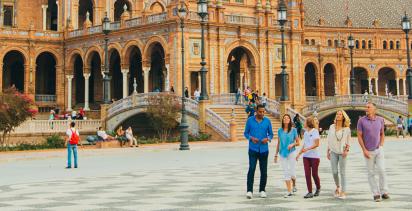 Tour Leaders
Europe Tour Leaders
Our award-winning Europe Tour Leaders are committed to delivering the 'Blue-Roads Difference' – whether by dining with the group, offering the flexibility to change the itinerary or by bringing each destination to life with their insight and knowledge.
Your Tour Leaders
Micaela Hobbs
I was inspired to become a Tour Leader by a desire to share my passion for the culture, history and spectacular scenery of the places we visit. What better way to earn a living than by visiting amazing places while giving others the opportunities to fulfill their dreams?

I endeavor to go above and beyond by paying attention to even the little things and keeping the tours flexible and fun. It is so rewarding to create experiences that connect us emotionally, whether it's from sharing laughter, stories, music, scenery, or meals.
Kriszti Imre
One of the things I enjoy the most about Blue-Roads is the guests we have from all over the world – and taking those guests on the back roads to tour different countries and showing them the hidden gems of a country that only locals would know about.

Another thing I love is that there is no divide between myself as Tour Leader and the guests at the dinner table. This is not the case on tours run by many bigger tour operators. At Blue-Roads, I always sit with guests and we have a chat, a laugh and continue getting to know each other over a delicious meal.
Isabelle Pareja
The lunch that we make with Baronessa Cecilia Baratti in Paestum is the best meal I've ever eaten on a Blue-Roads tour. The host's charismatic personality, the freshness of the products we use, and the joy of eating together and sharing an experience as a family all make for a memorable experience.
Edward Ashe
The secret to putting on a great walking tour is to keep the tour both fresh in terms of its content and the way you deliver it, whilst ensuring that your audience is still engaged and following your theme. From the point of view of a tourist, there is nothing more disappointing than a tour guide who has a lacklustre and routine style!
Asia Tour Leaders
Our Asia Tour Leaders are dedicated to delivering truly authentic, personable experiences, and will enhance your tour with fascinating facts and interesting anecdotes. It's easy to see that every single one of them is truly passionate about the tours they lead.
Your Tour Leaders
Bunvath Tes
I really enjoy my work as a Tour Leader because it gives me the chance to meet lots of nice people from different parts of the world and share our cultures and histories. I absolutely love to tell them all the interesting things about my country and about my own experiences.
Sokhoen Bout
I am passionate about this job because I like sharing my knowledge of the sites in Cambodia and I love taking tourists to see the real lives of the Cambodian people.

As a Tour Leader I am responsible and work flexibly to show our culture and civilization while looking after my clients' needs and extra cares. I really enjoy mixing with all kinds of tourists, no matter where they are from, and I try to provide them with the best experience possible of this historic and beautiful country.
Laki To Son
I strongly believe that all tourists love to hear about and see the culture and history of Vietnam. I find it fantastic to tell them all about our beautiful cultures – some of which are very unique and can't be found anywhere else in the world.

For me, work isn't just a way to earn a living, but it is also my passion.
Vuttha Dam
My hope is to teach tourists about the local people in Cambodia so that they can understand more about the diversity of our customs and cultures, and appreciate how different our lives are compared to theirs. I also love learning about tourists' ways of life and showing them all the beautiful places in Cambodia.
Nguyen Dang Tinh
As a young boy, I was always interested in my surroundings: the beautiful rice fields dotted with docile water buffaloes and the friendly rice farmers who always kept smiles on their faces despite their tiredness.

I went to school and decided to learn English to understand more about the world – and more importantly, to help the world discover the beauty of my country.
Hoang Ngoc Loc
To me the best thing about being a Tour Leader is meeting lots of people with different personalities and visiting all the amazing sights in my lovely and beautiful country.

I also love telling all the stories about our long and rich cultural traditions and customs, as well as our long and glorious Vietnamese history.