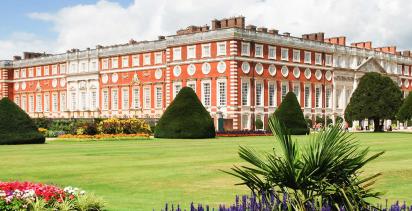 Visit England with Blue-Roads
Discover our small group tours of England
A rich tapestry of ancient histories, proud regional cultures and ever-changing landscapes, England offers every visitor something unique to unravel. Our tours of England delve into the country's local treasures, along its windswept coastlines, through its celebrated countryside, and into its age-old towns and villages.

Prepare to be enchanted by England's diverse cities, where the old-world runs seamlessly into the new. Behold the royal sights of London, or stroll through the refined streets of Durham. Admire the revered universities of Oxford and Cambridge, or amble along the cobbled lanes of York.

Soak up England's green and pleasant lands as we immerse ourselves in the atmospheric valleys of the Peak District, or the quaint villages of the Cotswolds. Sample a slice of quintessential English life at the Chelsea Flower Show, or discover a traditional British pastime at Newmarket National Stud.

Journey through England's history, from the iconic Avebury stone circle to the grand stately home of Chatsworth. Take in the regal splendor of Windsor Castle and Sandringham Estate – private residences of Her Majesty The Queen – or Hever Castle, where Anne Boleyn grew up.

Explore the dramatic seaside town of Whitby, the inspiration for Bram Stoker's Dracula, or the elegant Georgian city of Bath where Jane Austen set several novels. Seek out the medieval market town of Stratford-upon-Avon, where Shakespeare's half-timbered childhood home still stands.

Is England a country that's been calling your name? Join us as we take the scenic back roads through this distinguished land.
Experience England's esteemed cities
Plunge into an ancient world
Stamped through time by those who once called it home, a visit to the fascinating, World Heritage–listed city of Bath is a voyage into the past. Discover the remarkable 2,000-year-old Roman Baths, where the ancients once washed, worshiped and socialized. Bathe in these same hot springs at Thermae Bath Spa, where the steaming rooftop pool is always inviting (even if the weather isn't!). And marvel at the city's genteel Georgian architecture, including handsome Pulteney Bridge, and the grand rows of townhouses which form the Royal Crescent and The Circus.
TOUR: Heart of England
View tour
Uncover treasures old and new
Ever witnessed a giant, time-guzzling grasshopper? The ferocious metal insect scuttling on top of Cambridge University's Corpus Clock is just one of many charms the venerable city has in store. Seek out the exquisite King's College Chapel, famed for its stunning stained-glass windows and renowned choir, which dates back to the 15th century. Visit the ornate Bridge of Sighs at St John's College – Queen Victoria's favorite spot in the city. And while away an hour or two punting on the serene River Cam, savoring each magnificent sight as you glide slowly by.
TOUR: Enchanting Eastern England
See more