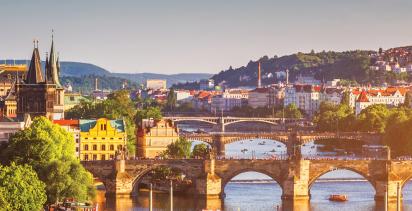 Central & Eastern Europe Tours
Explore Central and Eastern Europe
From small independent countries to the capitals of once-great empires, Central and Eastern Europe form a great patchwork of cultures and customs. When you visit nations in Central and Eastern Europe, you'll see diversity in all its glory, countries that have survived turbulent histories to emerge stronger, offering visitors a vibrant and welcoming experience.
Things to Do in Central & Eastern Europe
Head for the High Tatras
The highest range in the Carpathian Mountains, the High Tatras tower over Eastern Europe and boast pristine snowfields, clear mountain lakes and many rare, endangered animal and plant species including a genus of goat antelope. You'll take a cable car ride to survey the sweeping landscapes and then drive to a local farm for a homemade cheese tasting and light lunch.
TOUR: Explore Eastern Europe
See more
Take in Amazing Czech Architecture
The Czech Republic is famous for its medieval and Renaissance towns, dotted with ornate churches and palaces. Visit some of the country's must-see landmarks, including Trêboň's 17th-century château complex and Ćesky Krumlov's sweeping castle – not to mention its even more impressive interiors.
TOUR: Explore Eastern Europe
See more