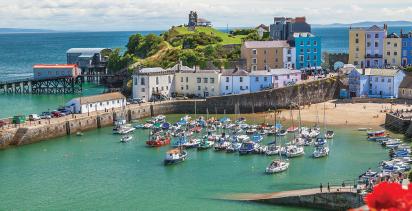 Wales Tours
Explore Wales with Blue-Roads
With its distinctive blend of Welsh language and Celtic culture, Wales is like no other country in the United Kingdom. You'll fall in love with its beautiful natural landscapes—from soaring mountains to stunning coastline and national parks—and revel at imposing Welsh castles.
Things to Do in Wales
"A Voyage to Tintern Abbey"
Celebrated in poems and paintings, Tintern is a 900-year-old abbey that fell into ruin in the 16th century. You'll explore what's left of this incredible collection of buildings, founded by Walter de Clare, Lord of Chepstow, situated adjacent to the village of Tintern in Monmouthshire.
TOUR: The Wonders of Wales
See more
A Lesson in Welsh Linguistics
Get ready for a crash course in the Welsh language. You'll visit the Welsh Language Heritage Centre, Nant Gwrtheyrn, located in a former quarrying village, where you'll show off with some tongue-twisting pronunciations and learn about this ancient language and culture, which continues to thrive throughout modern-day Wales.
TOUR: The Wonders of Wales
See more