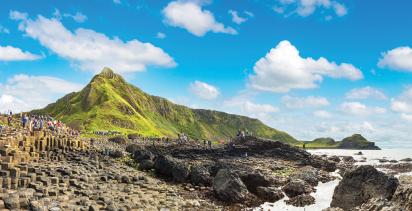 Northern Ireland Tours
Explore Northern Ireland with Blue-Roads
Once a hub of sectarian strife, Northern Ireland has quickly transformed into a trendy cosmopolitan metropolis, with Victorian architecture, modern art and a popular restaurant and nightlife scene. You'll soak in both the history and splendor of Belfast, once Ireland's preeminent industrial city.
Things to Do in Northern Ireland
Black Cab Tour
There's no better way to learn about Belfast's turbulent history than from the comfort of a famous Black Cab Tour. Strap in and get ready to visit the must-see historical sites, from political murals of "The Troubles" to Crumlin Court Jail and Court House, to the Albert Memorial Clock.
TOUR: The Emerald Isle
See more
Journey to the Titanic
More than 1,500 people died in watery graves when the Titanic hit an iceberg and sank into the cold waters of the North Atlantic on her maiden voyage. You'll learn all about the world's most famous ship at the Titanic Museum in Belfast.
TOUR: The Emerald Isle
See more