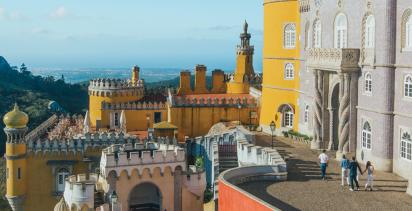 Portugal Tours
Explore Portugal with Blue-Roads
One of Europe's most beautiful countries, Portugal is the ideal destination for any traveler, with green mountains, spectacular slopes, desert-like landscapes and pristine beaches. Enjoy the best of cosmopolitan Lisbon, marvel at castles and cathedrals, and taste the hearty flavors of the region.
Things to Do in Portugal
Lisbon Ceramic Tiles
Lisbon is famous for its exquisite ceramic tiles. You'll get an up-close look at the beauty and culture of this historic city with a visit to a local tile painting studio, where you'll have the opportunity to try your hand at decorating your own tile.
TOUR: Discover Portugal
See more
Savor the Cheese in Viseu
If you're traveling to a famous wine region, it's usually a good idea to sample the cheese, too. In Viseu, a central city in Portugal known for its Dão wine, you'll meet with a cheesemaker, who will share the secrets to making Viseu's famous buttery cheeses, topping it off with a spectacular tasting.
TOUR: Discover Portugal
See more