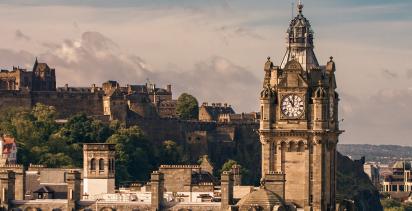 Scotland Tours
Explore Scotland with Blue-Roads
From ancient ruins to majestic mountains and mysterious lochs, Scotland is a proud and glorious country. You'll stroll through quaint villages, tour majestic castles and dark dungeons, wander through abbeys, and soak in the spirit of Scotland, a land of romance and legend.
Things to Do in Scotland
An Island in the Clouds
Looking for soaring Scottish views? Head straight for the Isle of Skye, or "cloud island": an ancient patchwork of mountains and lochs that offers dazzling views and authentic Gaelic culture. You'll immerse yourself in the island's unique geology, including Quiraing, Kilt Rock and the Old Man of Storr.
TOUR: A Scottish Journey
See more
A Royal Experience
We'll roll out the red carpet for a tour through Scotland's royal sites. Wander through Balmoral Castle, the Scottish holiday home of the royal family, and then head to Edinburgh Castle, a historic fortress that dominates the landscape from high up on Castle Rock, followed by a Royal Mile walk and a visit to the Royal Yacht Britannia.
TOUR: Royal Tour of Britain
"He Who Holds Stirling, Holds Scotland"
Often referred to as the brooch that clasps the Highlands and Lowlands together, Stirling is a key focal point in Scotland and home to one of the country's most visually dominating castles, Stirling Castle, located high atop Castle Hill. You'll tour the magnificent Old Town and then go in for a closer look at the historic castle, where several Scottish kings and queens were crowned, including Mary Queen of Scots.
TOUR: A Scottish Journey
See more