Tour code: BGHMM3
Tour Inclusions
Nights

Meals

8 Breakfasts, 3 Dinners
A Journey through Germany
9 days
Germany
Max 18 Passengers
Overview
Fall in love with this captivating country as we follow the Romantic Road through medieval towns, fairytale-like forests and the snow-capped Bavarian Alps. With our expert Tour Leader at the helm, we'll unravel local stories, seek out delicious flavours and learn the fascinating history behind each unique stop. Join us as we take the scenic back roads on this journey through the heart of Germany.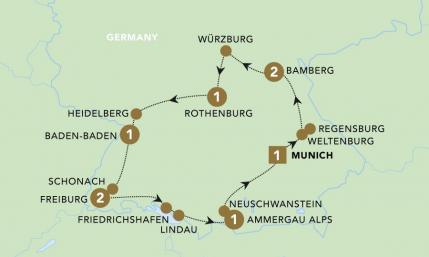 Tour Starts/Ends

1

Overnight Stop
Day Stop
Tour Highlights
Enjoy a beer tasting at Weltenburg Abbey, the world's oldest monastic brewery
Immerse yourself in the breathtaking scenery of the Ammergau Alps
Unravel the fascinating history behind some of Germany's magnificent medieval towns
Tour Inclusions
Accommodation
- 8 nights in hand-picked accommodation
The Crew
- Experienced Tour Leader and Driver
Transport
- Premium mini-coach transportation
Reviews

6 reviews
28th August 2019

Review rating

The tour Director and Driver didn't know about the areas we were visiting. The coach was way too small. My legs were pressed up against the seat in front of me, no matter where I sat. There was no room above our heads for bags, it was way too small. The only good aspect of the tour was the scenery and places we visited.

12th August 2019

Review rating

We enjoyed our tour but too many people for the size of the small bus

5th August 2019

Review rating

Content of tour, guide and driver were all excellent. BUT cramming 19 people into the bus was awful. There was no knee room between the seats, no proper lumbar support and you need some kind of cloth seating under your bum to stop sliding down under your seatbelt. It felt like cattle class in a cheap economy airline - and I was not the only one to feel this! Take a row of seats out and content yourselves with a max of 16 in the bus.You will have more contented travellers. I won't do another tour with you and have passed my comments on to my travel agent.
Read all 6 reviews