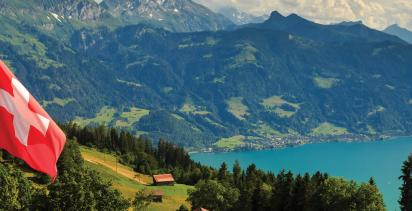 Switzerland Tours
Explore Switzerland with Blue-Roads
Home of the Alps, Switzerland is a multilingual country with natural resources, cosmopolitan cities and staples like chocolate and watches. Whether you're looking to sample the finest Swiss chocolate, visit palaces or gaze at sweeping landscapes, there is so much to do and see in Switzerland.
Things to Do in Switzerland
Pinot Noir in Paradise
Drink in the goodness of Switzerland with a visit to Schaffhauser Blauburgunderland, home to the largest wine-growing region in German-speaking Switzerland and a prodigious producer of Pinot Noir. To get to know the extraordinary region, you'll enjoy a wine tasting and private tour of the grounds.
TOUR: Mountains, Valleys & Lakes of Switzerland
See more
The Last Alphorn Maker in Switzerland
There's nothing more classically Swiss than an alphorn. You're in for a treat with a visit to the last alphorn maker's workshop in Eggiwil, where you'll enjoy a hands-on lesson from a master craftsman whose family's work in the trade stretches back generations.
TOUR: Mountains, Valleys & Lakes of Switzerland
See more