Sharing my solo travel experience: A story of adventure post-heartbreak
Sharing my solo travel experience: A story of adventure post-heartbreak
After losing her husband Norbert in a tragic accident three years ago, Marlene Manto's life and identity changed forever. Refusing to let the grief and fear of solo travel prevent her from embarking on a bucket-list trip to England, Marlene booked our Highlights of Britain tour and had the trip of a lifetime.  
Making it her mission to inspire other first-time solo travellers through her experiences, Marlene sat down with us to share some of her hesitations, fears and highlights whilst travelling with Back-Roads. 
Did you have any worries about being a solo traveller before setting off on your Highlights of Britain Back-Roads tour?
Did I have any worries? How about everything! I was terrified of being alone, and standing apart from all the happy, hand-holding couples who invariably make up the contingent on most tours. I was worried about having to manage everything alone… passports, carrying my own luggage, being the 'odd one out' at dinners, etc. Particularly scary for me was the thought of getting myself lost. What if I couldn't find my way back to the group after free time?  
This was all quite ridiculous because as a woman in her 60s I'm a fairly seasoned traveller, but all my travel has been with my husband. When he died, I thought 'that's it. That's the end of travel for me as I could never go alone'. It has been a journey in itself for me to get to this point where I now have the confidence for solo travel, but I'm so glad I took the risk. 
What was the best thing about being a solo traveller?
There isn't one kind of solo traveller, so I can only answer this from my own perspective – as an introvert with a few (somewhat irrational) fears that are kept at bay by a fervent passion for travel. So, the best thing about being a solo traveller with Back-Roads was that it gave me the ideal balance of support, encouragement and 'group time' for social interactions, while allowing me the 'alone time' I needed to process everything. 
What was your favourite part of the tour?
I loved all of it. There were a couple of 'pinch me' moments though.  You know, when your heart fills your chest and you think 'Oh wow… I'm really here.' 
Kirkstone Pass, the Lake District 
This is the landscape that inspired the poems of William Wordsworth, and it's so unbelievably beautiful. I'm grappling with a way to describe this special place, but it's a struggle as I don't have Wordsworth's abilities with the English language. I stood in Wordsworth's environment though, of soaring mountains, huge skies and a rawness that takes your breath away and makes you feel small in such a vast landscape. 
I loved that we were on a small bus so could navigate the narrow roads. Our Tour Leader and Driver made the experience even better, making time for plenty of stops for photo ops or to simply stand and admire the spellbinding views. You see, I wanted to stand quietly in this awe-inspiring place and allow the feeling of being overwhelmed emotionally settle around me. I could see far into the distance and I thought 'Yes, life is definitely worth living – even if only to experience moments like this.' There was a time when I thought it wasn't. 
Just outside of Dumfries, Scotland 
Picture this: it's a cool Scottish evening and you are standing outside a magnificent country manor house in a beautiful setting, surrounded by huge trees and sweeping lawns, which fall away into the River Nith at the end of the garden. You hear the wailing sound of bagpipes, and then a solitary piper in full Scottish dress slowly makes his way up to the front of the country house, playing just for you.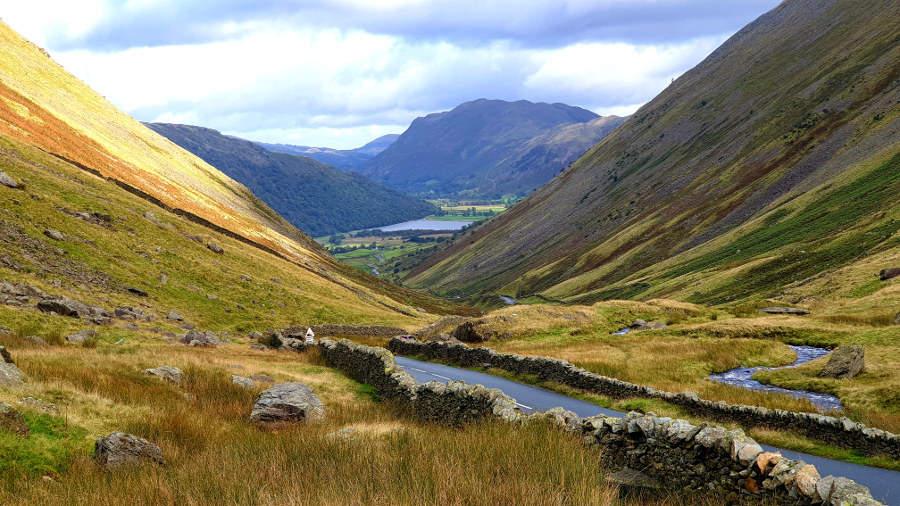 What advice would you give other solo travellers?
Again, what worked for me and helped me to get the most out of my experience might not be right for someone else. However, I found that starting small really helped to ease me into the world of solo travel, and I chose to spend my first trip just two hours from home. You don't have to imitate those solo travellers who impulsively buy a one-way ticket to Siberia taking only a backpack. Travel your way.  
Also, each time you manage to get through something that is scary for you (getting lost, catching public transport, talking to strangers etc), congratulate yourself! Over time you will learn that YOU are somebody you can depend on. And last but not least, always try to keep a positive mindset: the world is full of kind and helpful people who really want you to enjoy their corner of it.  
What's the biggest lesson you've learned through solo travel?
My first reaction to this question was, 'Wow! Where do I begin!' But on reflection there is one thing I've learned that eclipses all the small hurdles I've overcome and encompasses the best things that I took away from my experience. After my trip overseas, I came home a different person. This new person was somebody more self-confident in herself and in her world. 
So, my message to anyone considering travelling solo, but waiting 'until they are ready'? Take the plunge. You'll surprise yourself by just how ready you are! 
If you enjoyed reading this piece, Marlene also writes about her life and travel experiences on her blog After the Heartbreak.