Tour code: BEHSJEE-0
Tour Inclusions
Nights

Meals

8 Breakfasts, 2 Lunches, 4 Dinners

Hotel

Driver
A Scottish Journey
9 days
Scotland
Max 18 Passengers
Overview
Towering mountains and enchanting lochs. Dramatic castles and quaint villages. Infamous battles and gripping legends. This Scottish Journey takes us from coastal cities to Hebridean islands, seeking out one-of-a-kind landscapes, mesmerising history and undeniable charm.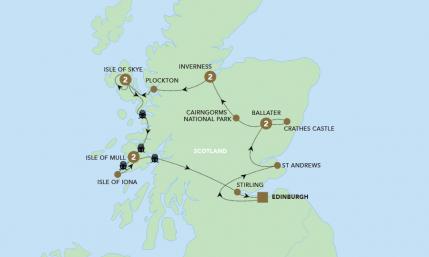 Tour Starts/Ends

1

Overnight Stop
Day Stop
The Blue-Roads Difference
Enjoy a piper welcome, meet the Highland cattle and tuck into a beef tasting lunch at the Aberdeenshire Highland Beef Farm
Discover Duart, Inverness and Crathes castles - and explore their beautiful gardens
Stay on the breathtaking Isle of Skye and Isle of Mull
Tour Inclusions
Accommodation
8 nights in boutique accommodation
The Crew
Experienced Back-Roads Tour Leader and Driver
Transport
Premium mini-coach transportation
Reviews

8 reviews
12th June 2019

Review rating

Our Guide and Driver were absolutely First Class. Nothing was too much trouble and local knowledge amazing. The Bus was spotless and quite comfortable. The Driver and Guide interacted very well with all the passengers. Coffee and Restroom stops were well planned.

10th June 2019

Review rating

It was excellent in all respects

9th June 2019

Review rating

The tour was great and small numbers of people. The sites visited were spectacular. Loved that porterage was included so as not to drag suitcase up the stairs. The driver and tour guide helped make the tour run smoothly and enjoyable.

6th June 2019

Review rating

The guiding was comprehensive, informative and flexible. We learnt a lot about the ecology, history and people of Scotland. The bus was comfortable and clean. We really enjoyed all the different styles of hotels we stayed in and the food service was amazing. Thank you for the extra evening meal which we enjoyed at Duisdale House Hotel. My interests lie with flora and fauna along with history and old architecture. I was suitably impressed with everything we stopped to see. The only slightly down point of the journey, which relates to personal preferences, was the lunch stop at the Waterside Seafood Restaurant. Yes it was supposed to be a taste experience and it was, but the meal needed to include more food without a smoked flavour. I think this would have enabled a better appreciation of the smoked flavours. The one thing that I felt was missing was a balance to the history, ecology and amazing food and accommodation - a arts/musical experience. Could you please consider including a music and dance experience (as in try it out) in the future? We were very,very satisfied with out trip.

5th June 2019

Review rating

From start to finish our tour was the most enjoyable experience. Our tour guide Rob was full of knowledge and showed a genuine passion for his country and it's history. I was amazed at just how much we packed into our tour. All of the places we visited and what were able to see was done at a relaxed and comfortable pace without feeling rushed at any time. We had free time in most destinations and our guide was always ready with recommendations of what we could do and where to eat. I am a convert to Blue-Roads and will be back for another tour!