Tour code: BNZLL3
Tour Inclusions
Nights

Meals

5 Breakfasts, 2 Dinners
ANZAC on the Western Front
6 days
France / Belgium
Max 18 Passengers
Overview
From the trenches of Ypres to monuments marking The Somme, our ANZAC tour maps Australian and New Zealand troops' movements in WWI – delving into the stories of the soldiers' involvement in the battles of the Western Front. With poignant visits to cemeteries and national memorials on the agenda, this history-themed journey is perfect for those wishing to learn more about their countrymen who fought and died in the Great War.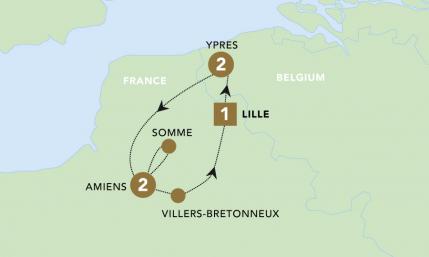 Tour Starts/Ends

1

Overnight Stop
Day Stop
Tour Highlights
Have the opportunity to pay your respects at your relatives' graves
Delve into the Australian story on the Western Front at the Franco-Australian Museum
Visit the Wellington Quarries – a network of underground tunnels dug by the New Zealand Tunnelling Company
Tour Inclusions
Accommodation
- 5 nights in hand-picked accommodation
The Crew
- Experienced Tour Leader and Driver
Transport
- Premium mini-coach transportation
Reviews

18 reviews
2nd September 2019

Review rating

The tour guide,Mark Banner was outstanding.We think Blue-Roads should use hotels with airconditioning.

28th August 2019

Review rating

There were only 11 of us on the tour with a guide and driver. Went on back roads rather on the busy highways which was great as I got to see more of the countryside. Mark Banning went out of his way to make sure I got all the information I needed to know by writing notes on a regular basis. I am Deaf.

27th August 2019

Review rating

The guide and driver were excellent, the itinerary was interesting and the coach was comfortable.
Read all 18 reviews