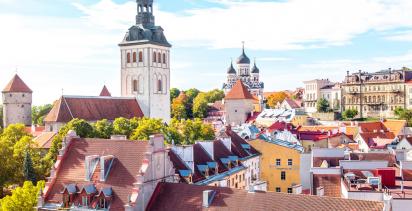 Estonia Tours
Explore Estonia with Blue-Roads
Quickly becoming one of the most popular destinations in Europe, Estonia combines the best of both worlds: unspoiled Nordic beauty coupled with the vibrant eclecticism and energy found in Eastern Europe. You'll see fairytale-like old towns and neoclassical buildings on this unforgettable voyage.
Things to Do in Estonia
Neoclassical Walking Tour
Nestled along an inlet along the Baltic Sea, Pärnu is known for its resort and leisure activities. You'll get an up-close look at this picturesque city, setting out on a guided walking tour that will take you past 19th-century spa buildings, timber villas and sundrenched beaches.
TOUR: Highlights of the Baltics
See more
A Walk through Estonia's Capital
If churches and castles are on your must-see list, you won't want to miss a visit to Tallinn, Estonia's capital, which features zigzag streets, ancient castles and the city's fairytale-like Old Town. Spend the evening immersing yourself in the city's bustling art, design and music scene.
TOUR: Highlights of the Baltics
See more