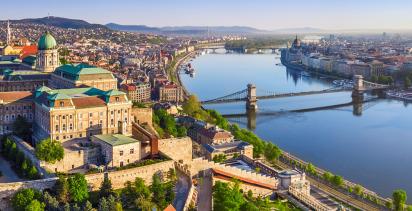 Hungary Tours
Explore Hungary with Blue-Roads
With low mountains, great plains, lakes and rivers, Hungary is one of the 15 most popular tourist destinations in the world, boasting numerous World Heritage Sites. Start at Budapest—one of the most beautiful capitals in the world—and move on to must-see sites like Hollókő and Eger.
Things to do in Hungary
Enjoy a Simpler Way of Life
Developed during the 17th and 18th centuries, the Old Village of Hollókő is a land untouched by time. You'll meet with the locals and be treated to a performance by the Hóllóko Women's Choir whose members dress in traditional garments.
TOUR: Explore Eastern Europe
See more
Taste the Sweetness
You'll journey to Eger, once the richest town in early medieval Hungary, and then on to picturesque Tokaj, a historic wine region. Top off the experience by tasting the region's famed sweet wines and savor the goodness.
TOUR: Explore Eastern Europe
See more