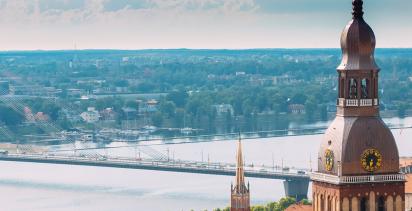 Latvia Tours
Explore Latvia with Blue-Roads
Home to Europe's "wildest waterfall", Latvia is a small nation located on the Baltic Sea coast and steeped in beauty and charm. Following centuries of Swedish, Polish and Russian rule, Latvia is known for its unique history with diverse cultures and customs, as well as a world-class capital city of Riga.
Things to Do in Latvia
A Walk through Riga
The capital of Latvia, Riga is home to a cultural center. Spend a day wandering around this historic city, the largest of all three Baltic capitals, where you'll take in the distinctive wooden buildings and gothic spires, stroll through cobblestone streets and enjoy incomparable culture and cuisine.
TOUR: Highlights of the Baltics
See more
Sample Latvian Delicacies
We'll sample some hearty delicacies of this Baltic nation. Feast on Latvian staples like rupjmaize, a dark bread made from rye; biezpiena sierinś, a sweet pressed cottage cheese and maizes zupa, a sweet bread soup made from rye bread, whipped cream and fruits.
TOUR: Highlights of the Baltics
See more