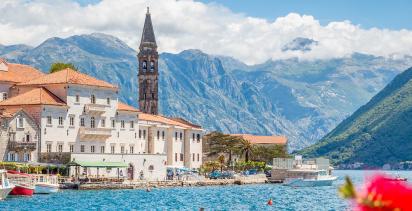 Montenegro Tours
Visit Montenegro with Blue-Roads
With stunning beaches and landmarks, Montenegro combines the best of a Riviera getaway with architecture and historical sites sure to please art and history aficionados. An increasingly popular vacation destination, Montenegro boasts picture-perfect scenery, including rugged mountains, primeval forests and bustling towns and villages.
Things to do in Montenegro
A Night in Kotor
Spend an unforgettable evening in Montenegro's coastal town of Kotor, a UNESCO World Heritage Site located along a secluded bay. You can gaze at the impressive medieval architecture and monuments, traverse the narrow, intersected streets and pay a visit to the Cat Museum, which pays tribute to the city's unofficial symbol.
TOUR: Croatia & The Dalmatian Coast
See more
Our Lady of the Rocks
Looking for a different kind of adventure? Travel to Our Lady of Rocks, a manmade islet off the coast of Perast in Montenegro's Bay of Kotor, made of sunken ships loaded with rocks, where you'll explore Our Lady of the Rocks Catholic Church, the largest building on the islet.
TOUR: Croatia & The Dalmatian Coast
See more