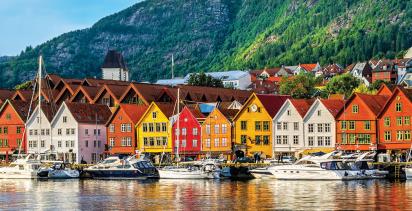 Norway Tours
Explore Norway with Blue-Roads
With awe-inspiring fjords, waterfalls and glaciers, Norway is soul-stirring, offering a feast for the senses and the adventure of a lifetime. Take in majestic natural landscapes, ride in a scenic railway car, survey intricate ice formations and taste delicious produce straight from the farm.
Things to Do in Norway
Visit Europe's Highest Fjord Viewpoint
Venture to Europe's highest fjord viewpoint at Dalsnibba Summit, known for its picture-perfect, year-round snow-capped mountaintops. After surveying the sights from above, we'll have lunch and then go in for a closer look at the Seven Sisters, Bridal Veil and Suitor waterfalls.
TOUR: Norway: Fjords and Glaciers
See more
Ride the Rails in Norway
There's no better way to take in the picturesque Nordic landscape than from the comfort of the Flåm Railway, which travels between Flåm and Myrdal through fjords at sea level and up to the tops of snow-capped peaks. Once we arrive in Flåm, we'll sit down to enjoy a cheese tasting and lunch.
TOUR: Norway: Fjords and Glaciers
See more