Tour code: BEHEIDD-0
Tour Inclusions
Nights

Meals

11 Breakfasts, 1 Lunches, 5 Dinners

Hotel

Driver
The Emerald Isle
12 days
Northern Ireland / Republic of Ireland
Max 18 Passengers
Overview
From north to south, this is one Irish journey that delves into the Emerald Isle's fascinating history, rich traditions and cultural heritage like no other. Starting with the legendary Giant's Causeway, our road will lead us to Ireland's rugged peninsulas, quaint villages and ancient landmarks - all while drawing on local knowledge to transport you to the heart of this captivating country.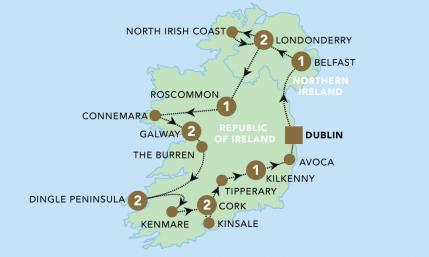 Tour Starts/Ends

1

Overnight Stop
Day Stop
The Blue-Roads Difference
Discover Northern Ireland's history on a Black Cab Tour of Belfast's street art and political murals
Set foot on the basalt columns of the legendary Giant's Causeway
Discover the moon like landscape of the Burren
Tour Inclusions
Accommodation
11 nights in boutique accommodation
The Crew
Experienced Back-Roads Tour Leader and Driver
Transport
Premium mini-coach transportation
Reviews

8 reviews
11th June 2019

Review rating

We thoroughly enjoyed he experiences of this tour, the size of bus and the limited number of guests on the tour. The tour guide (director) was brilliant and most accommodating and the driver friendly, knowledgable as well as being a very responsible driver.

11th June 2019

Review rating

We were very impressed with professional way the tour was set up and then on the other hand how relaxed and friendly the tour was. The small size (13 people) coupled with the excellent choice and variety of the features chosen was very much to our liking. The "boutique" hotels were without exception, comfortable, impressive and relaxed. The driver and the guide were excellent; friendly, knowledgeable and practical. In short we loved the tour, the staff and our fellow travellers. What else is there to like?????

10th June 2019

Review rating

Have travelled with Back Roads tours four times now. Their guides and bus drivers are always friendly, courteous and helpful. I often recommend the tours to others as I enjoy the small group policy, though this latest tour, there was 18, and my first tour, we only had 15 which was an ideal number. Certainly hoping the company doesn't increase the limit for a tour.

10th June 2019

Review rating

Both leader, Eva, and driver, Kirsty, were excellent. Well prepared, organized, considerate, interesting and amusing. Itinerary, choice of visits and hotels were excellent. However, only 13 of the 18 seats were occupied. This made it much more comfortable. We think if all 18 seats had been occupied, it could have been a bit squeezed.

4th June 2019

Review rating

Blue-Roads Emerald Isle with Eva and Kirsty the driver was highly informative, safe travelling, insightful and witty, plus well organised. Meals and accommodation were excellent. A highly recommended holiday over 12 nights exploring the winding roads from north to south of Ireland. Amazing comradeship and safety at all times. Our group were mostly Australians and a couple from the UK. Positive memories will stay with us for a long time.