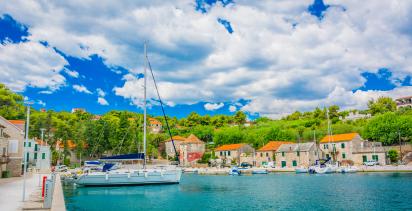 Canals and Sailing Tours
Take to the Water on Our Canals and Sailing Tours
Cruise the French Canals
With Blue-Roads, getting there is half the fun. Our barge cruises give you a better way to enjoy the picturesque towns and villages nestled along the French countryside. Of course, we also offer lots of time on dry land to explore the sites on foot or by bicycle.
Travel in Style
Who wouldn't want to take in French countryside from the comfort of a luxury barge? With a maximum of 22 guests per vessel, our barge cruises are like fully equipped floating hotels, offering authentic French cuisine from a formally trained chef and other top amenities such as a Jacuzzi, sun deck and more.
Set Your Own Pace
Blue-Roads barge cruises provide a leisurely alternative to a jam-packed tour schedule. If you're in the mood to stretch your legs, leave the boat behind and walk or bike around the charming towns.
Sail to Hidden Islands
Why settle for crowded beaches when you can explore hidden islands? Blue-Roads is about going off-the-beaten track to secret places like a manmade islet made from sunken ships. You'll channel your inner Robinson Crusoe without giving up all the comforts of a Blue-Roads tour.