Tour code: BEHSSPC-2
Tour Inclusions
Nights

Meals

9 Breakfasts, 4 Lunches, 2 Dinners
Splendours of Sicily
10 days
Italy
Max 18 Passengers
Overview
Prepare to be unwrapped by Sicily's superb landscapes, intoxicating diversity and ancient wonders. Centuries-old monasteries and Norman churches. Ancient Greek temples and bustling local markets. Sheer gorges and golden beaches. This dazzling Mediterranean island will tantalise your every desire and capture your heart with its fascinating culture.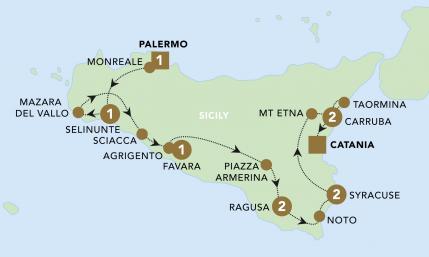 Tour Starts/Ends

1

Overnight Stop
Day Stop
Tour Highlights
Embark on a locally-guided walking tour of Palermo and gain a unique insight into the city's anti-Mafia movement
Discover the fascinating history behind the UNESCO World Heritage-listed Valley of Temples
Unlock the exotic and eclectic flavours of Sicilian cuisine with several unique tasting experiences.
Tour Inclusions
Accommodation
9 nights in hand-picked accommodation
The Crew
Experienced Back-Roads Tour Leader and Driver
Transport
Premium mini-coach transportation
Reviews

2 reviews
5th June 2019

Review rating

Well looked after. The tour guide was very considerate at all times

4th June 2019

Review rating

We loved the company and all the places we visited. The only problem was the farm produce lunch at Selinunte. This was not the fault of the Blue-Roads. Or the lovely place we visited for lunch. However 6 of us got food poisoning. I vomited all night and had to miss the next day. Fortunately we were staying two nights at Antico Convento Dei Cappuccini Ragusa so I was able to spend the day in bed recovering and I was OK by the next day. We think it might have been the turkey which apparently had come in from another farm but someone from your company should contact the people at Selinunte and let them know there was a big problem! tI must have been food poisoning as so many of us were sick. Also noone could get the internet in our rooms at the convent, which was annoying as I had to spend the day in my room and had to go downstairs to get it. . However the convent was ideally situated for the main street of Ragusa so it was probably excellent for convenience to the town (except that I was too sick to enjoy Ragusa).